I thought it would be nice to have a thread where you can post your favorite (or any) Atrium designs. I wish I had thought about this at Christmas time, 'cause I had what I thought to be a really neat one.
I will start by posting my winter scene - as you can see, there's not much growing yet! And a couple of little bunnies are out trying to get a bite to eat!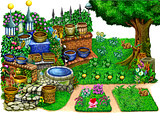 Post was edited 1 time, last by "truelinor": Changing image to thumbnail. ().